Krieghoff 200 | 2022
---
English & British Open Double Rise
The English Double Rise and British Double Rise will be taking place at Bywell Shooting Ground over the same weekend as the Krieghoff 200. More Information >>>
---
Online Booking - NOW OPEN
Book 1 to 5 entries at a time by using our online booking request. Once completed, we will make sure all the details are correct before sending a Secure Payment Link to arrange payment.
Click the Number of Entries
Entry Form - Available NOW
Send the form to:
Alan Rhone Ltd,
6 Coed Aben Road,
Wrexham Ind. Est.
Wrexham
LL13 9UH
 
(We accept the following cards)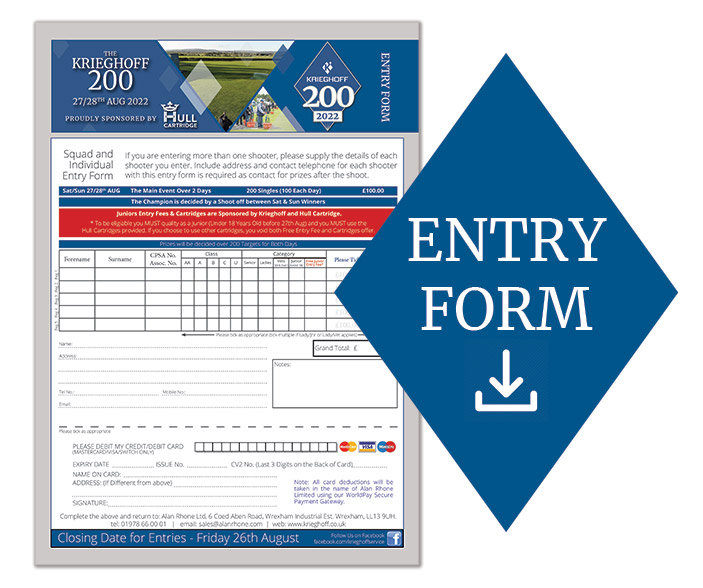 ---
Email Us With Your Entry Details
If you would prefer to email us with you booking requirements, you can do so by emailing: david@alanrhone.com
When you email your entries, please state the following information:
You, the Payee's:
Name / Address / Telephone Number
Each Entry We Require:
Full Name / CPSA / Class / Category / Contact (Telephone, Email or Address)
Main Event - Start Time / Squad / Peg
---
Phone Entry: Call us on +44 (0) 1978 66 00 01 to Book On
---
English & British Open Double Rise
The English Double Rise and British Double Rise will be taking place at Bywell Shooting Ground over the same weekend as the Krieghoff 200.
It is possible to shoot both events on the same day, but it would require you to obviously book your events at different times. Bywell Shooting Ground are taking the bookings for the English and British Double Rise, and we would advise you to book on to the Krieghoff 200 first, then once you have you place and time confirmed with us, then contact Bywell Shooting Ground regarding booking on to the English and British Double Rise.
Contact for Bywell Shooting Ground regarding booking is marketing@bywellshootingground.co.uk
---
Categories and Policies
Juniors - Juniors must be under the age of 18 (DTL, Skeet, Sporting, Sportrap and ABT), at the time of shooting the event, including shoot-offs or finals. There are additional prizes in this category.
Veterans - Veterans will have had their 60th birthday prior to the start of the event. There are additional prizes in this category.
Ladies - Female shooters of all ages. You may also qualify for either Juniors or Veterans depending on age, see above for details. There are additional prizes in this category.
Seniors - Persons between the ages of 18 and 60 at the time of the Krieghoff 200.
The Krieghoff 200 has adopted the policy of "If you are in it you can win it" since the very first shoot. This means that a Junior, Veteran or Lady Category winner is still eligible for the Class Winner prize and the Overall High Gun and Runner-Up. In the same way, a Lady Junior or Lady Veteran Category winner is still eligible for Class Winner prize, Overall High Gun prize in addition to their multiple Category prize. The Overall Winner and Overall Runner-Up are eligible for the Lewis Class Prizes, and are eligible for the Category Prizes.
Book Your Space
If we have a high demand of booking requests, we may not be able to book you onto the exact place you've requested. We will attempt to book you on to a similar time and place on the shoot. We operate on a first come-first serve basis and will work through booking requests in order as they come in.