Krieghoff DTL 2018 | Booking
Booking for the Krieghoff DTL 2018 is Open in February 2018
---
Online Booking Form
Book 1 to 5 entries at a time by using our online booking request. Once completed, we will make sure all the details are correct before either sending a Secure Payment Link or contacting you over the phone to arrange payment.
Entry Form
Not Available Until Entries Open
Send the form to:
Alan Rhone Ltd,
6 Coed Aben Road,
Wrexham Ind. Est.
Wrexham
LL13 9UH
 
(Cheques made payable to Alan Rhone Events Limited)
(We accept the following cards)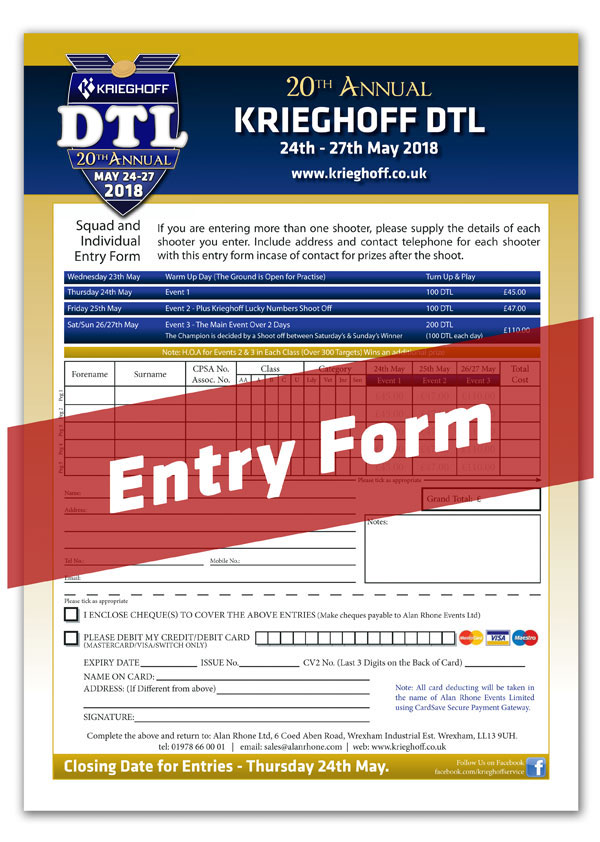 ---
Email Us With Your Entry Details
If you would prefer to email us with you booking requirements, you can do so by emailing: david@alanrhone.com
When you email your entries, please state the following information:
You, the Payee's:
Name / Address / Telephone Number
Each Entry We Require:
Full Name / CPSA / Class / Category / Contact (Telephone, Email or Address)
Event 1 - Start Time / Squad / Peg
Event 2 - Start Time / Squad / Peg
Event 3 - Start Time / Squad / Peg
---
Phone Entry - Currently Closed Until Further Notice
We are currently not accepting phone entries for the Krieghoff DTL. Please use one of the other 3 methods - Online Booking / Email / Entry Form - to book your space. Phone Entries will open at a later date. Please do not Call Us to Book at this time. We cannot accept your call. Any other enquiries regarding your booking, please email David at david@alanrhone.com

Book Your Space Now
Entries are open up until the Friday 27th May of the Krieghoff DTL. You can enter on the day of each event, but only if there is available space. You will need to Book in with Mid-Wales Shooting Centre for field entries.