K-20 Pro Sporter
The K-20 Pro-Sporter features a similar high rib design that is offered on the K-80 Pro-Sporter. The higher rib and stock allows the shooter to keep their head in a more erect position, thereby increasing sight range, allowing for quicker target acquisition, reduced neck fatigue and perceived recoil.

The high rib of the K-20 Pro-Sporter is easily adjustable. By simply turning the adjustment wheel you can fine tune your point of impact from 50/50 to a slightly higher 60/40. Combined with the #3 Pro-Sporter stock and adjustable comb, the shooter can truly create a personalized fit. Barrel lengths of 30" or 32", complete with the fully adjustable high rib, are available in all three small bores. Pro-Sporter barrels and are available as an option on 28ga. and .410. Titanium chokes are standard on all 20ga. 28ga and .410 bore have extended steel chokes. The K-20 Pro-Sporter gives you all of the advantages of the K-80 in a package that is ready for the course or the field.
Gauges:
20 Gauge; 3" chambers
28 Gauge; 3" chambers
.410 Bore; 3" chambers
Barrel Lengths:
30" or 32"; Adjustable Floating Rib 12-8mm Taper
Stock:
Right-handed or Left handed "Pro-Sporting" stock with adjustable comb, palm swell and "Schnabel" forearm
Each new K-20 comes with 10 years warranty and backed by our excellent Krieghoff Service, offering advice, service and repairs for the complete Krieghoff range. The gun is shipped in a lightweight transport case.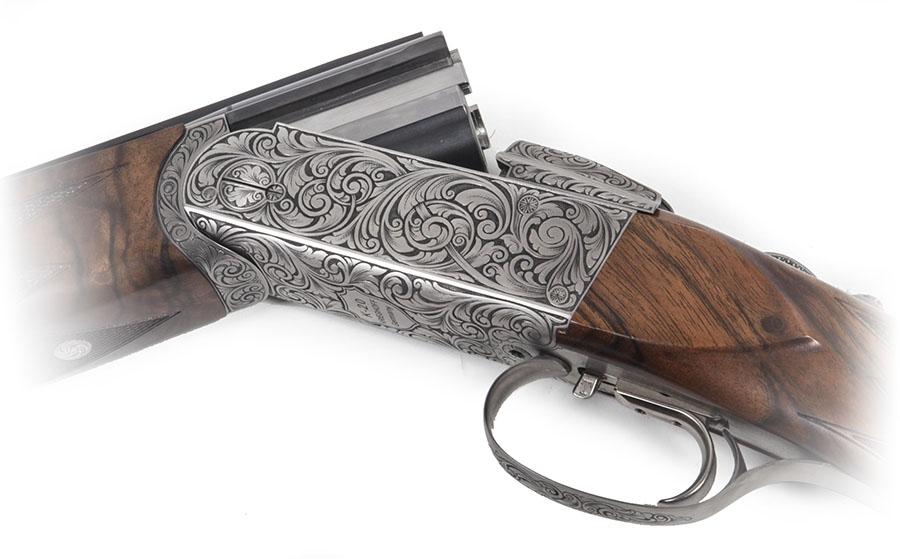 K-20 Options
To get an idea of what you can choose when buying a K-20, visit the Krieghoff Options section. You can select barrel type and length, stock grade and engraving pattern.