Krieghoff | Hubertus Rifle
In the long-standing tradition of hunting, a single shot rifle has always been a very special gun. It stands for beauty and excellent handling characteristics. To use one in the field often creates moments of unforgettable memories. Therefore, we have named our rifle after the hunting patron St. Hubertus.
The Krieghoff HUBERTUS combines tradition and some new and innovative features. In addition to the superb handling of the rifle, a most important feature is the manual cocking device which is located on the top tang, in the position usually occupied by a conventional safety. It allows to carry the HUBERTUS fully loaded with the hammer uncocked - the safest position since there is no chance of an accidental discharge. Add to that the Universal-Trigger-System and the Combi-Cocking-Device, both standard features of the HUBERTUS, and the result is a rifle with important advantages in practical use.

Specification:
U.S. Calibers:
.222 Rem., .22-250 Rem., .243 Win., .270 Win., .308 Win., .30-06
European Calibers:
5.6x50R Mag., 5.6x52R, 6x70R, 6x62R Freres, 6.5x57R, 6.5x65R, 7x57R, 7x65R, .30R Blaser, 8x57IRS, 8x75RS, 9.3x74R
Magnum Calibers:
7mm Rem.Mag., .300 Win.Mag.
Barrels
Length 23.5" (60cm). Optional shorter barrel length available on request. Express style solid quarter rib suitable for scope mounts. Optional octagonal barrel available for the following calibers only: 6.5x57R, 6.5x65R, 7x57R, 7x65R, .308 Win., .30-06, .30R Blaser. For details, download brochure.
Action:
Choice of steel or Dural aluminum action for all calibers, except Magnum calibers which come with steel actions only. The Dural action is approx. 11-12 ozs lighter than a steel action.
Standard engraving on US models is "Small Arabesques". Optional engraving patterns available, download brochure for details.
Optional sideplates available.
Single hammer manual cocking system with Universal-Trigger-System and Combi-Cocking Device as standard features.
Sights
A rectangular rear sight with rectangular front sight is standard.
Optional factory installed, quick detachable scope mounts are available. They can also be installed later by Krieghoff International's in-house and factory trained experts.
Regulating
Regulated at the factory with commercially available ammunition over open sights at 88 yds (80m) or when available through scope at 110 yds (100m). Factory target provided with data about the ammunition used for regulating.
Stock and Forearm
Buttstocks and Schnabel forearms are made from fine European walnut and have hand-cut checkering. Stocks include a Bavarian cheekpiece.
Length of Pull: 14 3/8" (36,5cm) with standard hard buttplate.
A rubber recoil pad is optional. An optional BreaKO recoil reducer can be installed in the buttstock to reduce recoil (weighs 14 oz).
Weight
Approximately 6.4 - 7.5 lbs (2.9 - 3.4 kg) depending on caliber and if action is made from steel or Dural aluminum.
Case
We deliver all Hubertus rifles in a soft canvas break-down case. An optional fitted Krieghoff aluminum hardcase is available.
Manual Cocking System
Find out more about the cocking system of the Hubertus. See the different position of the mechanism and how the internal workings of the action.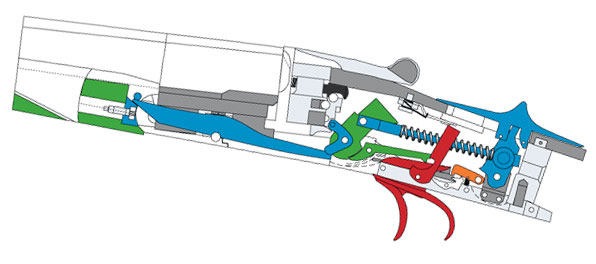 ---
Engraving Examples: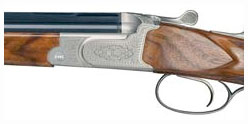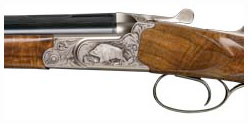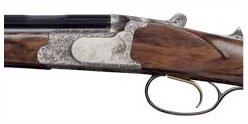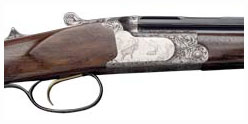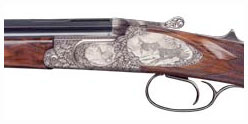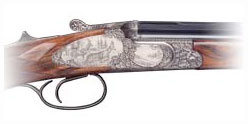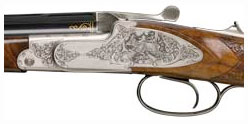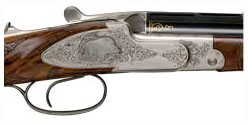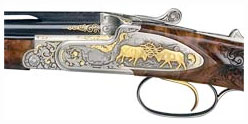 Krieghoff Hunting Rifles
Krieghoff produce some of the most reliable rifles in the world. The configuration options allow you to get exactly what you want from your rifle.