Krieghoff | Classic "Big Five" Side-by-side
It is the ultimate African adventure, the quest for the "Big Five". And it is forever connected with side-by-side rifles, a classic configuration which bespeaks superb handling and ultimate reliability.
 
Krieghoff has the rifle to meet the challenge: The CLASSIC "Big Five". It was designed in conjunction with professional hunters and safari experts specifically for hunting dangerous game. Calibers available range from .375 Flanged Magnum to .500 Nitro Express - the most effective on dangerous game and the choice of professional hunters.  
The Classic is now available with the optional extra of ejectors - find out more

Specification:
Calibers (same in both barrels):
.375 H&H Flanged Mag N.E.
.375 H&H Mag
.450/.400 NE
.500/.416 N.E. (3 1/4")
.470 N.E.
.500 N.E. 3".
 
Barrels
Length 23.5" (60cm). Express style quarter rib.
 
Sights
Shallow V-shaped Express rear sight with folding leaves calibrated 30, 50 and 80 metres.
Bead front sight for instinctive quick target acquisition with pop-up white moon sight..
Regulating
Regulated at the factory with commercially available ammunition over open sights at 55 yds (50m) holding a two inch group or better.
Factory target provided with data about the ammunition used for regulating.
Action
Steel actions with reinforced walls for extra strength.
Manual cocking device with combi-cocking feature.
Triggers
Double triggers featuring Krieghoff's universal-trigger-system.
Stock
Classic "Big Five" stock from European walnut with comfortable grip and straight comb specially designed for big bore ammunition. Rigby style cheekpiece.
Length of Pull: 14 1/2" (37cm), including a half inch "Old English" style decelerator recoil pad.
Forearm
Functional and comfortable Schnabel style forearm
Weight
Approx. 9.5 - 10.5 lbs (4.2 - 4.8 kg) depending on caliber and without BreaKO recoil reducer.
 
Case
Fitted Krieghoff aluminum hardcase.
Manual Cocking System
Find out more about the cocking system of the Classic. See the different position of the mechanism and how the internal workings of the action.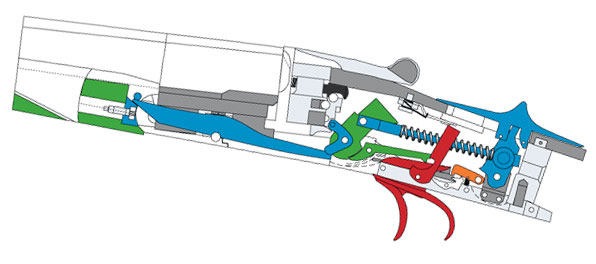 Standard Features
Manual Cocking Device on the top tang - the ultimate safety 
Universal Trigger System with anti-doubling device 
Short opening angle for fast, easy loading 
Quiet, efficient shell extractors 
Slim, compact action with reinforced sidewalls for extra strength 
Sliding, self-adjusting wedge for secure bolting 
Broad, massive underlugs to withstand wear 
Hinged front trigger for finger protection on heavy recoil 
Virtually horizontal firing pin placement for fast lock-time 
V-shaped Express rear sight with pearl front sight 
Straight "Big Five" stock and Schnabel style forearm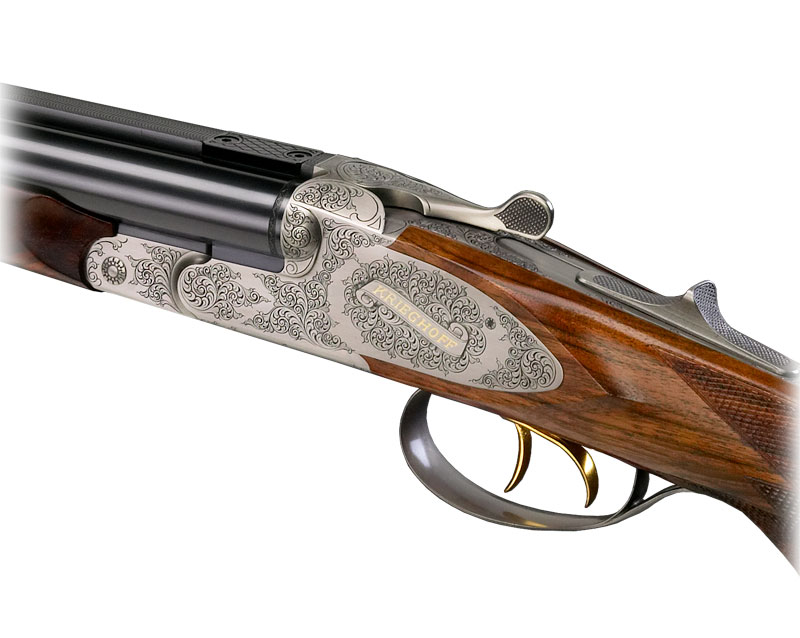 Optional Features
Now available in Ejector or Non-Ejector models. 
Additional, interchangeable rifle barrels in standard or big bore calibers, or even a 20 gauge shotgun barrel for an odd day of bird shooting in the veld. 
Optional sideplates and engravings using Krieghoff patterns or your own. 
Folding express sights. Krieghoff See-Through sight 
Wood upgrades, left-handed stocks 
Pistol grip caps engraved with game scenes or your initials 
BreaKO recoil reducer (14 oz) installed in buttstock 
Gold shield with your initials inletted in stock 
Custom fitted hardcases by Americase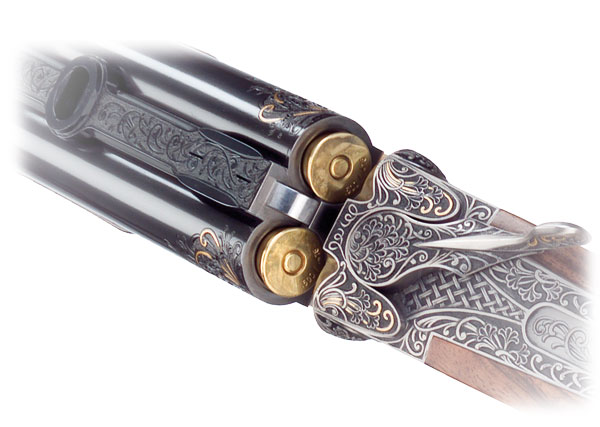 ---
Engraving Examples: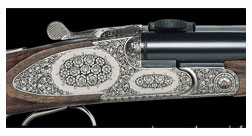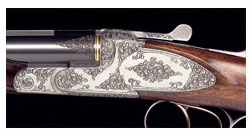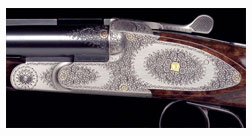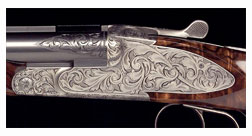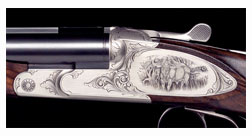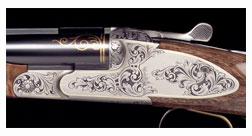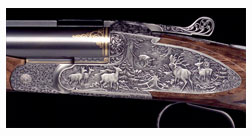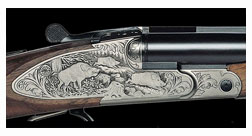 Krieghoff Hunting Rifles
Krieghoff produce some of the most reliable rifles in the world. The configuration options allow you to get exactly what you want from your rifle.