K-80 | DTS

Each new K-80 comes with 10 years warranty and backed by our excellent Krieghoff Service, offering advice, service and repairs for the complete Krieghoff range. The gun is shipped in a lightweight transport case. As an option an aluminium case covered with a hard wearing black cordura case cover is available.
The fully adjustable O/U-barrel for shooting trap. Not only can the point-of-impact of both barrels be adjusted simultaneously, the possibility also exists to adjust the spread between the 2 free-floating barrels by changing the front hanger resulting in different point of impacts for each barrel if desired. This way, for example, the bottom barrel can be set to shoot higher than the top barrel.
K-80 DTS | Barrels
Krieghoff K-80 Trap DTS with fully adjustable rib for point-of-impact (POI) adjustments. Built around the proven K-80 receiver, the Trap DTS comes with 30" O/U-barrels. Choke tubes in all barrels and a Monte Carlo trap stock with adjustable comb designed for the high-post rib are standard features.
Shipped from the factory with a 70%/30% POI in all barrels, the rib can be adjusted so that the gun shoots a fairly flat 60%/40% or up to a full pattern (100%) high.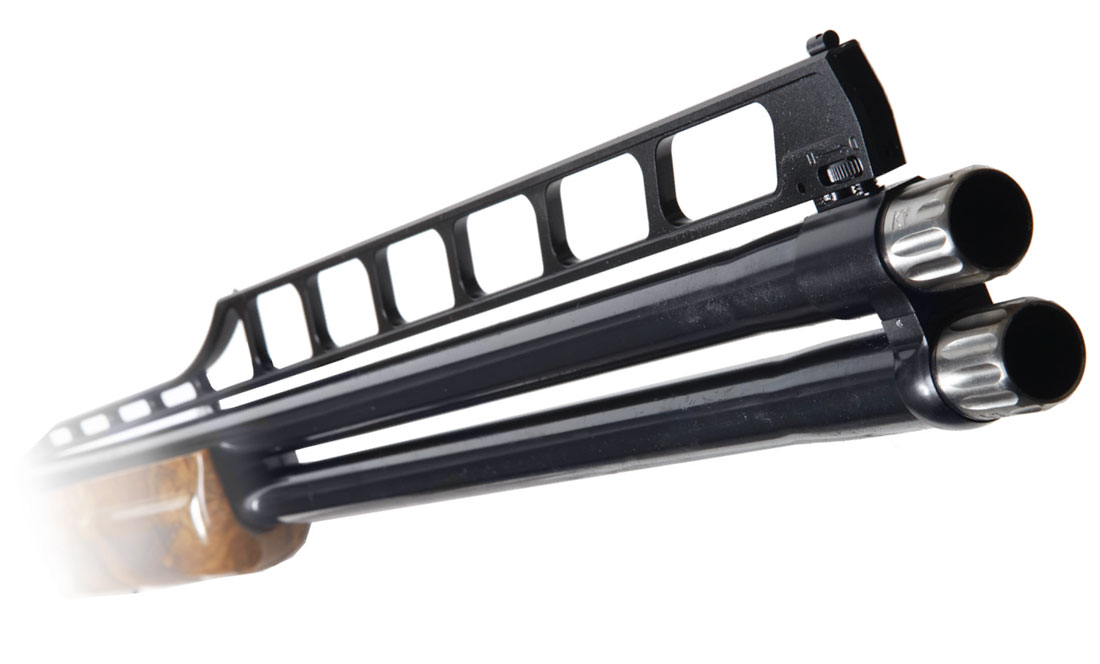 K-80 DTS | Stock
Monte Carlo trap stock. Adjustable comb especially designed for the high-post rib. The stock is, as usual, available for an optional higher grade wood. The Forearm is #3 Standard Sloping Trap configuration.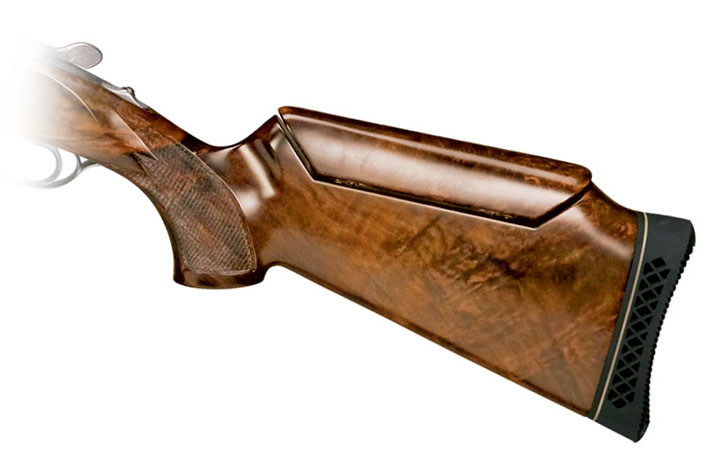 ---
K-80 DTS | Specifications

Calibre:
Gauge 12 Gauge; 2-3/4" chamber
Barrels:
All Trap Special barrels have 10-6mm (12-8mm with chamfer) tapered ribs and feature a white pearl front sight and metal center bead. The Trap Special barrels include Choke Tubes in both barrels. Included are #2 Mod, #3 Imp Mod, and #4 Full.
 
Available are Cylinder (C, 00), Skeet (S, 0), Improved Cylinder (IC, 1), Light Modified (LM, 1+), Modified (M, 2), Light Improved Modified (LIM, 2+), Improved Modified (IM, 3), Full (F, 4), and Super Full (SF, 5).
Action
Steel, electroless nickel plated with satin finish. See available engraving patterns.
Trigger
Single selective mechanical trigger, adjustable for finger length.
Trigger pull: Approximately 3.3/4 to 4lbs.
Optional Release Trigger available
Safety
Top tang push button safety. Can be locked in "off" position
Stock:
High Monte-Carlo stock with adjustable comb. This stock is higher than the standard Monte-Carlo adjustable to align with the higher rib. The benefit of the higher line of sight is the recoil is delivered lower down and results in less muzzle lift and preceived recoil.

Forearm
Standard forearm is #III Trap.
Grade
Standard is classic K-80 scroll engraving.
Any of the optional K-80 engraving patetrns are available on this gun at additional cost.

Weight
Weight approximately 9lbs depending on wood density.
Case  
The gun is shipped in a lightweight transport case. As an option an aluminium case covered with a hard wearing black cordura case cover is available.
K-80 DTS | Rollover Stock
The Trap Special / DTS stock has been completely redesigned. Using input from top American trapshooters, who really understand recoil control when shooting a lot of targets, Krieghoff have designed a completely new and very effective stock. The adjustable comb is a true roll-over, maximising the contact surface area and minimising any damage to the face in the cheek bone area. The heel swings left to keep behind the barrels whilst the toe kicks out right to follow the natural shoulder angle. Other changes are made in the grip area with a more generous cut out for the base of the thumb and a steeper grip angle to better control muzzle flip.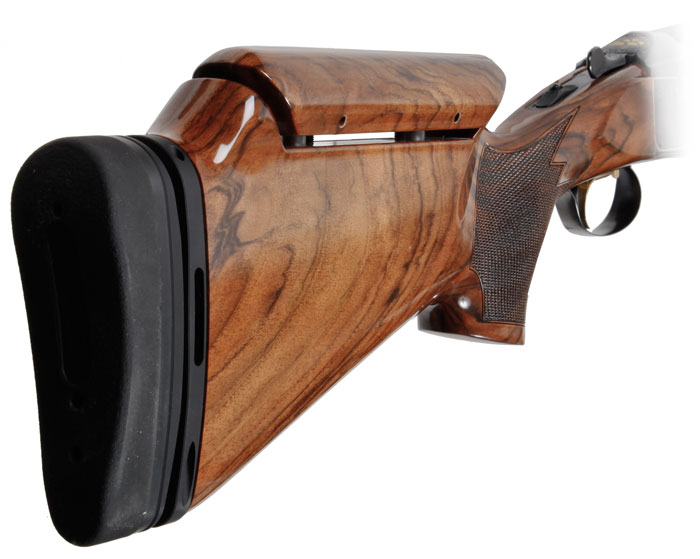 ---
K-80 DTS Barrels are available in 30" (1,700g) and 32" (1,756g), both with Screw In Chokes only.

| | |
| --- | --- |
| | DTS |
| Length of Pull | 365mm / 14.37" |
| Length of Grip | 93mm / 3.66" |
| Drop at Nose | 41mm / 1.61" |
| Drop at Monte Carlo | 41mm / 1.61" |
| Drop at Heel | 82mm / 3.23" |
| Cast at Heel | 3mm / 0.12" |
| Cast at Toe | 13mm / 0.51" |
| Pitch | 90º |
K-80 Options
To get an idea of what you can choose when buying a K-80, visit the Krieghoff Options section. You can select barrel type and length, stock grade and engraving pattern.