Results - Main Event
This year, 186 people shot the Main Event. The Super Final Shoot-Off was held between Saturday's Winner, Mark Stamper, and Sunday's Winner Edward Armett. Well done to both shooters and excellent shooting in the wet conditions, but Congratulations Edward Armett, the 2023 Krieghoff 500 Champion.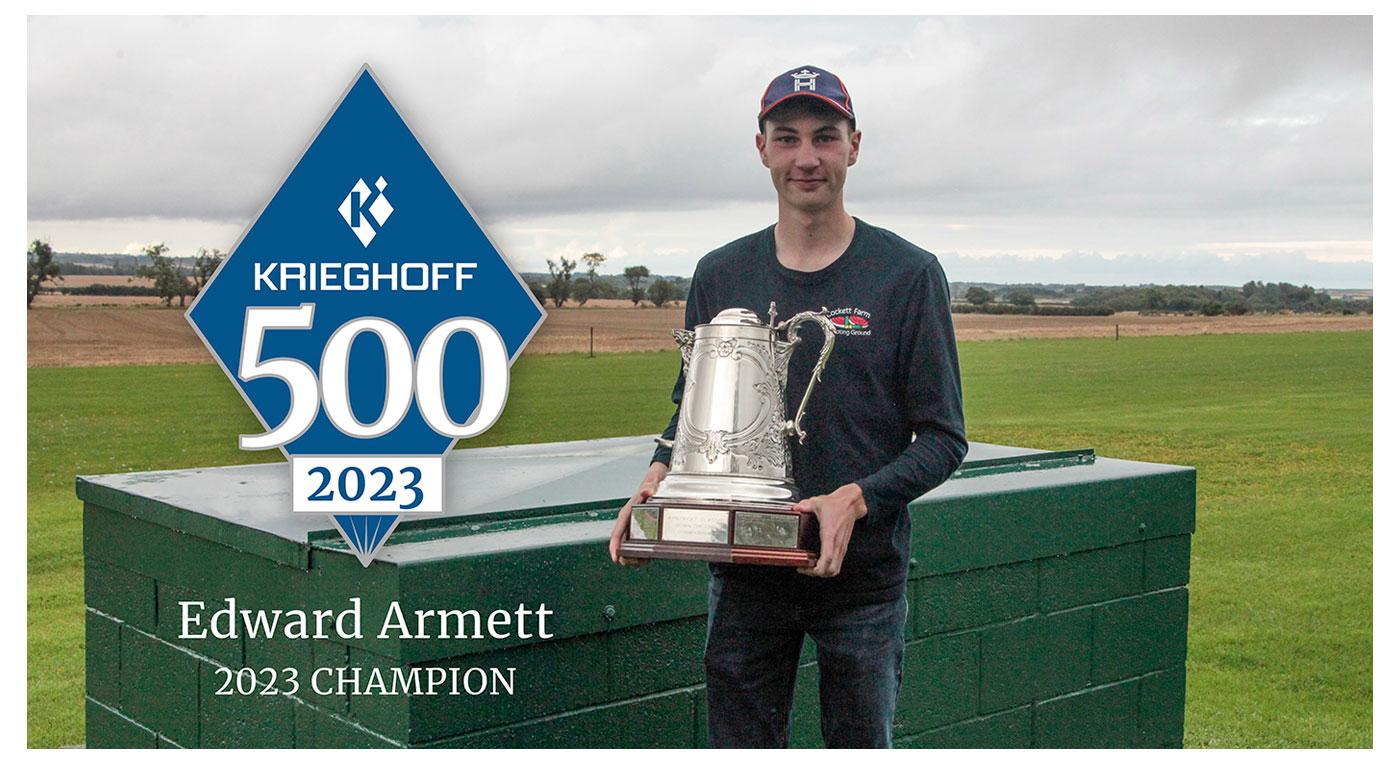 The Full Results List for the Main Event is below. See the Lewis Class Prizes for the Main Event.
Plus you can see the Options Winners for Saturday and Sunday here.
| | | | | | | | | | | | | |
| --- | --- | --- | --- | --- | --- | --- | --- | --- | --- | --- | --- | --- |
| # | Name | CPSA | Cat | 1 | 2 | 3 | 4 | 5 | 6 | 7 | 8 | Score |
| 1= | Curtis Woolley | EE111369 | Senior Mens | 25 | 24 | 25 | 23 | 25 | 24 | 25 | 24 | 195 |
| 1= | Mark Stamper | EE96760 | Senior Mens | 25 | 25 | 25 | 25 | 23 | 23 | 24 | 25 | 195 |
| 3= | Darren Bell | NI162CC | Mens | 24 | 25 | 23 | 25 | 25 | 23 | 25 | 24 | 194 |
| 3= | Ian Mullarkey | EE71316 | Senior Mens | 23 | 25 | 25 | 23 | 25 | 24 | 25 | 24 | 194 |
| 3= | Nick McKeown | NI98D | Senior Mens | 24 | 25 | 25 | 24 | 23 | 23 | 25 | 25 | 194 |
| 3= | Stuart Whitehead | EE108175 | Senior Mens | 22 | 25 | 25 | 24 | 25 | 25 | 25 | 23 | 194 |
| 7= | David Caithness | SS4176 | Senior Mens | 25 | 23 | 24 | 23 | 25 | 24 | 24 | 25 | 193 |
| 7= | Don MacKay | SS6264 | Senior Mens | 25 | 23 | 23 | 25 | 24 | 24 | 25 | 24 | 193 |
| 7= | Ian Biggins | EE110007 | Veteran Mens | 23 | 25 | 24 | 25 | 25 | 23 | 23 | 25 | 193 |
| 7= | Richard Greenlaw | SS4436 | Senior Mens | 25 | 25 | 25 | 23 | 25 | 22 | 23 | 25 | 193 |
| 11= | Marcas  Robertson  | SS6224 | Senior Mens | 24 | 22 | 25 | 24 | 25 | 24 | 24 | 24 | 192 |
| 11= | Paul Chaplow  | EE300 | Senior Mens | 23 | 23 | 25 | 24 | 25 | 24 | 24 | 24 | 192 |
| 11= | Steven Janes | EE130245 | Senior Mens | 25 | 24 | 24 | 24 | 24 | 23 | 24 | 24 | 192 |
| 14= | John Bellamy | EE10984 | Veteran Mens | 23 | 25 | 23 | 24 | 22 | 25 | 25 | 24 | 191 |
| 14= | Keith Montgomery | NI207PP | Senior Mens | 24 | 25 | 24 | 23 | 24 | 23 | 23 | 25 | 191 |
| 14= | Mike Hartley | EE118693 | Veteran Mens | 25 | 22 | 25 | 24 | 23 | 23 | 24 | 25 | 191 |
| 14= | PH Quinn | II6724 | Senior Mens | 24 | 23 | 24 | 24 | 24 | 25 | 24 | 23 | 191 |
| 18= | Andrew Hetherington | SS695 | Senior Mens | 23 | 24 | 22 | 24 | 22 | 25 | 25 | 25 | 190 |
| 18= | Elis Jones | WW2324 | Senior Mens | 23 | 22 | 25 | 24 | 24 | 24 | 23 | 25 | 190 |
| 18= | Nigel Chapman | EE64228 | Senior Mens | 24 | 24 | 25 | 24 | 23 | 23 | 22 | 25 | 190 |
| 18= | William Armstrong | NI326E | Senior Mens | 25 | 24 | 22 | 24 | 23 | 24 | 24 | 24 | 190 |
| 22= | Alan Evans | WW2241 | Senior Mens | 24 | 24 | 25 | 23 | 24 | 23 | 22 | 24 | 189 |
| 22= | Christopher Moule | EE43566 | Veteran Mens | 25 | 22 | 25 | 23 | 23 | 22 | 24 | 25 | 189 |
| 22= | Jason Linnell | EE128135 | Senior Mens | 22 | 22 | 24 | 25 | 23 | 24 | 25 | 24 | 189 |
| 22= | Kevan Smith | SS3656 | Veteran Mens | 21 | 23 | 24 | 24 | 24 | 25 | 24 | 24 | 189 |
| 22= | Michael Turner | EE109672 | Senior Mens | 24 | 24 | 24 | 23 | 24 | 23 | 24 | 23 | 189 |
| 22= | Tom Robinson | EE90911 | Senior Mens | 22 | 23 | 22 | 24 | 24 | 24 | 25 | 25 | 189 |
| 22= | William Buchanan | SS1598 | Senior Mens | 19 | 23 | 23 | 25 | 24 | 25 | 25 | 25 | 189 |
| 29= | David Priestman | EE122880 | Veteran Mens | 23 | 22 | 23 | 25 | 24 | 25 | 22 | 24 | 188 |
| 29= | Edward Armett | EE142941 | Junior Mens | 24 | 23 | 21 | 21 | 25 | 24 | 25 | 25 | 188 |
| 29= | Emma Holden Hardy | EE7226 | Senior Ladies | 24 | 24 | 22 | 24 | 23 | 25 | 24 | 22 | 188 |
| 29= | Ivar McBay | SS4205 | Veteran Mens | 21 | 23 | 22 | 24 | 24 | 25 | 24 | 25 | 188 |
| 33= | Alasdair McDonell | SS3621 | Senior Mens | 25 | 20 | 25 | 23 | 22 | 24 | 25 | 23 | 187 |
| 33= | Catherine Fraser | SS3075 | Veteran Ladies | 25 | 21 | 25 | 22 | 24 | 22 | 24 | 24 | 187 |
| 33= | John Carroll | EE112996 | Senior Mens | 24 | 23 | 24 | 23 | 22 | 23 | 25 | 23 | 187 |
| 33= | Marcus Munro | SS3697 | Senior Mens | 22 | 23 | 25 | 25 | 20 | 24 | 23 | 25 | 187 |
| 33= | Scott Masson | SS4125 | Senior Mens | 23 | 23 | 24 | 25 | 23 | 24 | 24 | 21 | 187 |
| 33= | Stephen Petch | EE136548 | Senior Mens | 25 | 24 | 24 | 21 | 24 | 22 | 24 | 23 | 187 |
| 33= | Stuart Kitchen | EE82169 | Senior Mens | 20 | 25 | 25 | 24 | 23 | 22 | 24 | 24 | 187 |
| 40= | Angus Cameron | SS4231 | Senior Mens | 23 | 23 | 21 | 24 | 24 | 23 | 23 | 25 | 186 |
| 40= | Cory Doble | EE134655 | Senior Mens | 24 | 24 | 23 | 24 | 24 | 23 | 21 | 23 | 186 |
| 40= | David Robinson | NI160HH | Senior Mens | 25 | 22 | 22 | 20 | 24 | 23 | 25 | 25 | 186 |
| 40= | David Whitehead | EE128142 | Senior Mens | 24 | 22 | 23 | 22 | 24 | 25 | 23 | 23 | 186 |
| 40= | Keith Blaney | EE145927 | Senior Mens | 23 | 24 | 23 | 24 | 24 | 24 | 20 | 24 | 186 |
| 40= | Maurice Beedan | EE90262 | Veteran Mens | 25 | 24 | 22 | 23 | 21 | 24 | 23 | 24 | 186 |
| 40= | R Elliot  | N/A | Senior Mens | 21 | 24 | 23 | 23 | 23 | 23 | 25 | 24 | 186 |
| 47= | A  Cameron | N/A | Senior Mens | 25 | 22 | 23 | 24 | 23 | 21 | 25 | 22 | 185 |
| 47= | Allan Henry | EE4336 | Veteran Mens | 21 | 24 | 22 | 22 | 24 | 24 | 24 | 24 | 185 |
| 47= | Allan Wilson | SS5299 | Veteran Mens | 23 | 25 | 23 | 21 | 24 | 22 | 23 | 24 | 185 |
| 47= | D Monaghan | N/A | Junior Mens | 23 | 24 | 21 | 24 | 23 | 23 | 23 | 24 | 185 |
| 47= | Darren Armstrong | NI119CC | Senior Mens | 22 | 23 | 22 | 23 | 25 | 23 | 23 | 24 | 185 |
| 47= | Darren Murray | SS4329 | Senior Mens | 23 | 21 | 22 | 23 | 23 | 24 | 25 | 24 | 185 |
| 47= | David Alford | EE146587 | Senior Mens | 23 | 24 | 24 | 23 | 24 | 24 | 24 | 19 | 185 |
| 47= | Hamish Munro | SS5553 | Senior Mens | 21 | 24 | 21 | 25 | 23 | 25 | 23 | 23 | 185 |
| 47= | Ian Douglas | EE33433 | Senior Mens | 23 | 24 | 20 | 24 | 25 | 25 | 20 | 24 | 185 |
| 47= | Karl Jones | WW422 | Senior Mens | 25 | 22 | 23 | 23 | 25 | 22 | 24 | 21 | 185 |
| 47= | Norman Scott | SS5385 | Veteran Mens | 24 | 23 | 23 | 23 | 23 | 25 | 23 | 21 | 185 |
| 47= | Paul Meakin | EE111393 | Senior Mens | 25 | 24 | 23 | 21 | 21 | 25 | 22 | 24 | 185 |
| 47= | Richard Lewis | WW2233 | Veteran Mens | 22 | 24 | 23 | 23 | 22 | 22 | 24 | 25 | 185 |
| 60= | Kenneth Jones | SS4766 | Senior Mens | 23 | 22 | 24 | 20 | 24 | 23 | 24 | 24 | 184 |
| 60= | Peter Relph | EE105605 | Senior Mens | 24 | 22 | 21 | 22 | 23 | 24 | 24 | 24 | 184 |
| 60= | SG McNamee | II9156 | Senior Mens | 24 | 22 | 21 | 23 | 25 | 24 | 24 | 21 | 184 |
| 63= | George Turnes | EE90649 | Veteran Mens | 21 | 23 | 24 | 24 | 22 | 24 | 24 | 21 | 183 |
| 63= | Ian Lawrie | SS4546 | Veteran Mens | 24 | 23 | 23 | 22 | 20 | 24 | 23 | 24 | 183 |
| 63= | John Gilchrist | SS3234 | Senior Mens | 23 | 23 | 22 | 21 | 24 | 23 | 24 | 23 | 183 |
| 63= | John Lauder | EE109773 | Veteran Mens | 24 | 23 | 24 | 23 | 21 | 22 | 22 | 24 | 183 |
| 63= | Junior Haynes | EE141553 | Senior Mens | 20 | 23 | 24 | 23 | 23 | 24 | 23 | 23 | 183 |
| 63= | William Smith | SS4319 | Senior Mens | 23 | 23 | 23 | 22 | 25 | 23 | 22 | 22 | 183 |
| 69= | Gordon Shankland | SS4001 | Veteran Mens | 20 | 21 | 21 | 23 | 25 | 24 | 24 | 24 | 182 |
| 69= | Mark White | SS6407 | Senior Mens | 24 | 22 | 21 | 23 | 23 | 22 | 23 | 24 | 182 |
| 69= | Marty Smith | EE125835 | Senior Mens | 19 | 23 | 24 | 24 | 21 | 23 | 25 | 23 | 182 |
| 69= | Mervyn Turkington | EE109958 | Veteran Mens | 23 | 24 | 22 | 22 | 24 | 21 | 22 | 24 | 182 |
| 69= | Neil Farnsworth | EE128472 | Senior Mens | 25 | 23 | 23 | 22 | 22 | 21 | 24 | 22 | 182 |
| 69= | P Chalmers | SS1568 | Veteran Mens | 25 | 21 | 22 | 22 | 24 | 22 | 22 | 24 | 182 |
| 69= | Peter Armett | EE88517 | Senior Mens | 22 | 21 | 20 | 23 | 24 | 24 | 23 | 25 | 182 |
| 69= | Shaun Gardener | EE100330 | Senior Mens | 21 | 22 | 22 | 22 | 25 | 22 | 25 | 23 | 182 |
| 77= | Gary Boyd | SS5392 | Senior Mens | 19 | 22 | 22 | 24 | 23 | 24 | 23 | 24 | 181 |
| 77= | John Barnett | EE6247 | Veteran Mens | 22 | 22 | 23 | 24 | 23 | 23 | 22 | 22 | 181 |
| 77= | John Pocock | SS6787 | Senior Mens | 18 | 24 | 21 | 24 | 25 | 21 | 24 | 24 | 181 |
| 77= | Lee Wilcoxson | EE129381 | Senior Mens | 22 | 23 | 23 | 23 | 23 | 23 | 22 | 22 | 181 |
| 77= | R Flatli | N/A | Veteran Mens | 20 | 23 | 21 | 25 | 25 | 23 | 22 | 22 | 181 |
| 82= | Daniel Beedan | EE90263 | Senior Mens | 20 | 24 | 23 | 21 | 25 | 23 | 22 | 22 | 180 |
| 82= | Paul Osborne | EE130791 | Senior Mens | 23 | 22 | 25 | 21 | 23 | 23 | 22 | 21 | 180 |
| 84= | Christopher Jones | EE102001 | Senior Mens | 20 | 21 | 21 | 21 | 23 | 23 | 25 | 25 | 179 |
| 84= | Cliff Pain | EE99155 | Veteran Mens | 19 | 25 | 23 | 22 | 25 | 21 | 22 | 22 | 179 |
| 84= | David Galloway | SS3699 | Senior Mens | 20 | 21 | 23 | 22 | 25 | 25 | 22 | 21 | 179 |
| 84= | Kenneth Crawford | NI129HH | Senior Mens | 20 | 23 | 23 | 22 | 22 | 24 | 22 | 23 | 179 |
| 84= | Roan Quinn | II11525 | Senior Mens | 14 | 24 | 23 | 24 | 23 | 23 | 23 | 25 | 179 |
| 84= | Steven Price | EE139293 | Senior Mens | 22 | 25 | 22 | 23 | 22 | 24 | 20 | 21 | 179 |
| 90= | Geoffrey Nutter | EE88429 | Senior Mens | 22 | 22 | 23 | 24 | 23 | 21 | 20 | 23 | 178 |
| 90= | Mark Child | EE128471 | Senior Mens | 20 | 23 | 23 | 23 | 20 | 23 | 23 | 23 | 178 |
| 92= | Stephen Johnstone | SS3604 | Veteran Mens | 21 | 24 | 18 | 21 | 20 | 24 | 25 | 24 | 177 |
| 92= | Will Palmer | WW5 | Veteran Mens | 19 | 21 | 21 | 23 | 23 | 23 | 23 | 24 | 177 |
| 94= | Andrew Hughson | SS5494 | Senior Mens | 20 | 21 | 20 | 20 | 22 | 24 | 24 | 25 | 176 |
| 94= | Gail Barclay | SS6202 | Senior Ladies | 25 | 24 | 23 | 21 | 19 | 21 | 23 | 20 | 176 |
| 94= | Mark Campbell | SS4412 | Senior Mens | 21 | 24 | 21 | 23 | 21 | 21 | 23 | 22 | 176 |
| 94= | Paul Quinn | II6721 | Senior Mens | 22 | 22 | 20 | 22 | 22 | 21 | 24 | 23 | 176 |
| 94= | W Cliffton | N/A | Senior Mens | 24 | 23 | 21 | 23 | 21 | 21 | 20 | 23 | 176 |
| 99= | C Monaghan | N/A | Senior Mens | 24 | 23 | 21 | 22 | 18 | 22 | 23 | 22 | 175 |
| 99= | Caroline Whitehead | EE130306 | Veteran Ladies | 23 | 22 | 19 | 23 | 24 | 22 | 20 | 22 | 175 |
| 99= | Christopher Dickinson | EE145133 | Senior Mens | 20 | 22 | 25 | 21 | 22 | 20 | 21 | 24 | 175 |
| 99= | Garry Sayles | EE119513 | Veteran Mens | 22 | 22 | 20 | 21 | 23 | 22 | 21 | 24 | 175 |
| 99= | Jack Ruane | EE129118 | Senior Mens | 19 | 24 | 22 | 22 | 20 | 22 | 23 | 23 | 175 |
| 99= | Jennifer O'Neill | SS6426 | Senior Ladies | 24 | 21 | 19 | 20 | 24 | 22 | 23 | 22 | 175 |
| 99= | Jim Presly | SS6731 | Veteran Mens | 22 | 21 | 23 | 22 | 20 | 25 | 21 | 21 | 175 |
| 99= | Rhuaraidh Kennedy | SS4259 | Senior Mens | 22 | 20 | 23 | 21 | 20 | 23 | 22 | 24 | 175 |
| 107= | Derek Street | SS4314 | Veteran Mens | 20 | 23 | 21 | 22 | 23 | 24 | 20 | 21 | 174 |
| 107= | Edward Metcalfe | EE115676 | Veteran Mens | 23 | 21 | 19 | 23 | 22 | 22 | 20 | 24 | 174 |
| 107= | G Thrane | N/A | Senior Mens | 23 | 25 | 21 | 23 | 19 | 19 | 23 | 21 | 174 |
| 107= | J MacLellan | SS1014 | Senior Mens | 24 | 22 | 24 | 22 | 22 | 19 | 20 | 21 | 174 |
| 111= | David Amos | EE56201 | Veteran Mens | 24 | 23 | 21 | 23 | 20 | 22 | 22 | 18 | 173 |
| 111= | John  Jackson  | SS6712 | Senior Mens | 22 | 22 | 24 | 21 | 19 | 20 | 23 | 22 | 173 |
| 111= | Kenneth McGillivray | SS6138 | Veteran Mens | 20 | 23 | 22 | 22 | 21 | 23 | 20 | 22 | 173 |
| 114= | Donald MacFarlane | SS733 | Veteran Mens | 19 | 24 | 22 | 18 | 22 | 23 | 22 | 22 | 172 |
| 114= | John Mackin | SS6153 | Senior Mens | 20 | 18 | 24 | 23 | 20 | 24 | 21 | 22 | 172 |
| 114= | Paul Sant | EE125165 | Senior Mens | 22 | 23 | 20 | 21 | 24 | 21 | 20 | 21 | 172 |
| 114= | Roger Brown | EE113900 | Senior Mens | 21 | 22 | 22 | 19 | 19 | 25 | 20 | 24 | 172 |
| 118= | B  Adams  | N/A | Junior Mens | 23 | 17 | 18 | 22 | 22 | 22 | 24 | 23 | 171 |
| 118= | Cameron Mackay | SS6781 | Junior Mens | 20 | 20 | 20 | 21 | 21 | 22 | 24 | 23 | 171 |
| 118= | Stephen Marsh | EE137032 | Veteran Mens | 18 | 17 | 20 | 21 | 23 | 25 | 24 | 23 | 171 |
| 121= | David Galloway | SS1097 | Veteran Mens | 21 | 23 | 17 | 20 | 25 | 22 | 20 | 22 | 170 |
| 121= | Jory Roseveare | SS6310 | Senior Mens | 20 | 22 | 22 | 24 | 18 | 21 | 21 | 22 | 170 |
| 121= | K Kasperson | N/A | Veteran Mens | 20 | 21 | 19 | 21 | 21 | 22 | 23 | 23 | 170 |
| 124= | Allan Peacock | EE120198 | Veteran Mens | 21 | 23 | 25 | 20 | 22 | 19 | 17 | 22 | 169 |
| 124= | David Stanbrook | EE112080 | Senior Mens | 24 | 21 | 22 | 17 | 22 | 18 | 23 | 22 | 169 |
| 124= | David Waring | EE124591 | Veteran Mens | 14 | 22 | 20 | 23 | 23 | 23 | 21 | 23 | 169 |
| 124= | Derek Ridley | EE31260 | Veteran Mens | 22 | 19 | 19 | 23 | 23 | 21 | 23 | 19 | 169 |
| 124= | Mick Abrams | EE96322 | Veteran Mens | 22 | 23 | 21 | 17 | 22 | 22 | 21 | 21 | 169 |
| 129= | Andrew Lazenby | EE49972 | Veteran Mens | 18 | 23 | 22 | 20 | 20 | 19 | 23 | 23 | 168 |
| 129= | Denis Davitt | SS6551 | Senior Mens | 23 | 24 | 19 | 15 | 24 | 22 | 21 | 20 | 168 |
| 129= | John Adams | EE12635 | Veteran Mens | 22 | 17 | 25 | 18 | 20 | 23 | 24 | 19 | 168 |
| 129= | Richard Bowman | EE132388 | Senior Mens | 21 | 20 | 22 | 17 | 25 | 20 | 20 | 23 | 168 |
| 129= | Sarah Milroy | EE132049 | Senior Ladies | 19 | 22 | 25 | 19 | 23 | 22 | 19 | 19 | 168 |
| 134= | Andrew McKeer | EE107558 | Veteran Mens | 20 | 23 | 20 | 22 | 20 | 23 | 18 | 21 | 167 |
| 134= | David Robinson | EE80808 | Veteran Mens | 21 | 20 | 23 | 17 | 22 | 23 | 20 | 21 | 167 |
| 134= | David Smith | EE136795 | Senior Mens | 21 | 21 | 22 | 20 | 20 | 21 | 21 | 21 | 167 |
| 134= | Diana Barnett | WW2621 | Veteran Ladies | 22 | 23 | 25 | 20 | 21 | 19 | 18 | 19 | 167 |
| 134= | Jonathan Denny | EE145973 | Senior Mens | 21 | 24 | 22 | 19 | 23 | 18 | 22 | 18 | 167 |
| 134= | Kevin MacKay | SS4378 | Senior Mens | 18 | 22 | 20 | 24 | 20 | 22 | 19 | 22 | 167 |
| 140= | Calum Jones | WW421 | Junior Mens | 22 | 21 | 19 | 22 | 22 | 15 | 24 | 21 | 166 |
| 140= | Caroline Stanbrook | EE112079 | Veteran Ladies | 23 | 21 | 20 | 19 | 20 | 20 | 20 | 23 | 166 |
| 140= | Craig Bebbington | EE115567 | Senior Mens | 20 | 21 | 22 | 21 | 20 | 21 | 19 | 22 | 166 |
| 140= | David Brent | EE118283 | Senior Mens | 22 | 20 | 23 | 20 | 23 | 18 | 18 | 22 | 166 |
| 140= | Emma Christie | SS3415 | Senior Ladies | 22 | 21 | 21 | 20 | 20 | 19 | 21 | 22 | 166 |
| 140= | Gordon Collins | SS3081 | Senior Mens | 20 | 19 | 20 | 22 | 20 | 20 | 23 | 22 | 166 |
| 140= | Jane Hitchmough | EE105606 | Senior Ladies | 20 | 21 | 20 | 21 | 16 | 23 | 22 | 23 | 166 |
| 140= | Neil Dickinson | EE116776 | Senior Mens | 21 | 22 | 24 | 18 | 20 | 19 | 21 | 21 | 166 |
| 140= | Rene Aas | EE126245 | Senior Mens | 24 | 23 | 20 | 22 | 19 | 21 | 21 | 16 | 166 |
| 149= | Alexander Bull | EE114497 | Senior Mens | 22 | 22 | 18 | 20 | 23 | 20 | 21 | 19 | 165 |
| 149= | Andy Leak | EE68222 | Senior Mens | 22 | 18 | 21 | 22 | 17 | 21 | 23 | 21 | 165 |
| 149= | Angus MacDonald | SS1746 | Veteran Mens | 21 | 20 | 18 | 19 | 22 | 20 | 22 | 23 | 165 |
| 149= | Craig McKeown | NI330UU | Colt Mens | 14 | 20 | 20 | 22 | 21 | 24 | 24 | 20 | 165 |
| 153 | Nicholas Simpson | EE105917 | Veteran Mens | 21 | 20 | 19 | 22 | 18 | 22 | 20 | 22 | 164 |
| 154 | Jack Johnson | EE139108 | Senior Mens | 18 | 18 | 15 | 25 | 25 | 21 | 20 | 21 | 163 |
| 155= | Brian Whitehead | EE130305 | Veteran Mens | 19 | 18 | 19 | 23 | 22 | 23 | 17 | 21 | 162 |
| 155= | Molly Hall | SS6832 | Junior Ladies | 18 | 23 | 18 | 22 | 21 | 18 | 21 | 21 | 162 |
| 155= | Sean MacDonough | SS750 | Veteran Mens | 21 | 17 | 21 | 19 | 22 | 22 | 20 | 20 | 162 |
| 158= | Andrew Johnston | NI208TT | Senior Mens | 19 | 23 | 21 | 20 | 20 | 21 | 18 | 19 | 161 |
| 158= | Leo Johnston | NI123VV | Colt Mens | 18 | 19 | 21 | 21 | 21 | 22 | 18 | 21 | 161 |
| 160 | Calum Willey | EE145255 | Senior Mens | 22 | 22 | 18 | 20 | 19 | 21 | 18 | 20 | 160 |
| 161 | Lloyd Bartley | EE112089 | Veteran Mens | 19 | 21 | 18 | 17 | 22 | 23 | 20 | 19 | 159 |
| 162 | Hugh MacDougall | SS2940 | Veteran Mens | 24 | 19 | 20 | 19 | 24 | 19 | 18 | 15 | 158 |
| 163= | Charles Rautenberg | SS1117 | Veteran Mens | 21 | 22 | 19 | 14 | 19 | 20 | 19 | 23 | 157 |
| 163= | D MacKay | SS1111 | Senior Mens | 18 | 21 | 22 | 24 | 22 | 17 | 16 | 17 | 157 |
| 163= | Graham Nairn | SS4562 | Senior Mens | 19 | 12 | 20 | 20 | 22 | 21 | 23 | 20 | 157 |
| 166= | Edward Crawford | NI128MM | Junior Mens | 18 | 19 | 20 | 19 | 19 | 19 | 19 | 23 | 156 |
| 166= | Leslie Armstrong | SS6866 | Senior Mens | 16 | 19 | 22 | 21 | 17 | 21 | 17 | 23 | 156 |
| 168 | Joseph Westwood | EE148241 | Senior Mens | 18 | 19 | 20 | 18 | 20 | 18 | 21 | 21 | 155 |
| 169 | David Taberner | EE11531 | Veteran Mens | 18 | 18 | 18 | 21 | 19 | 19 | 21 | 16 | 150 |
| 170 | Ellie Whitehead | EE140816 | Senior Ladies | 18 | 21 | 21 | 17 | 18 | 15 | 20 | 18 | 148 |
| 171= | Liam Cox | EE99378 | Veteran Mens | 17 | 20 | 17 | 20 | 19 | 19 | 18 | 17 | 147 |
| 171= | Steven Pape | EE95558 | Veteran Mens | 16 | 17 | 20 | 17 | 17 | 20 | 20 | 20 | 147 |
| 173 | R Jenkins | SS3513 | Veteran Mens | 19 | 14 | 17 | 21 | 17 | 20 | 17 | 20 | 145 |
| 174 | David Bell | EE115868 | Veteran Mens | 9 | 13 | 20 | 13 | 20 | 23 | 23 | 23 | 144 |
| 175= | A Hansen | N/A | Veteran Mens | 18 | 18 | 16 | 16 | 17 | 21 | 20 | 17 | 143 |
| 175= | Lauchlan Masson | SS6817 | Senior Mens | 20 | 17 | 19 | 18 | 20 | 19 | 14 | 16 | 143 |
| 177 | David Bontoft | EE25273 | Veteran Mens | 20 | 17 | 19 | 16 | 19 | 16 | 11 | 21 | 139 |
| 178 | Yvonne Elderbrant | EE143651 | Senior Ladies | 12 | 15 | 19 | 19 | 19 | 21 | 13 | 19 | 137 |
| 179 | Richard  Northey  | N/A | Senior Mens | 19 | 14 | 15 | 20 | 13 | 14 | 21 | 20 | 136 |
| 180 | Nigel Lovatt | EE6151 | Veteran Mens | 20 | 17 | 16 | 11 | 17 | 14 | 23 | 16 | 134 |
| 181 | Timothy Allen | EE109309 | Senior Mens | 15 | 15 | 13 | 19 | 18 | 18 | 11 | 21 | 130 |
| 182 | Joshua Smith | EE144759 | Senior Mens | 16 | 19 | 14 | 17 | 14 | 16 | 15 | 17 | 128 |
| 183 | John Sinclair | SS1647 | Veteran Mens | 17 | 16 | 16 | 13 | 16 | 16 | 15 | 17 | 126 |
| 184 | Alan Rhone | N/A | Senior Mens | 15 | 18 | 14 | 17 | 13 | 11 | 20 | 17 | 125 |
| 185 | James Curran | N/A | Veteran Mens | 0 | 14 | 17 | 19 | 19 | 13 | 19 | 19 | 120 |
| 186 | Ashley Clitheroe | EE148242 | Senior Mens | 12 | 17 | 17 | 12 | 0 | 0 | 0 | 0 | 58 |
Social Media
Follow us on Facebook for updates and picture galleries