Krieghoff | Other Services
Annual Service and Preventative Maintenance (Krieghoff Shotguns and Rifles)
This service includes checking the gun for headspace, overcock, proper tolerances of sears, ejectors and hammers and complete disassembly and replacement of springs as needed throughout the receiver and forend iron. All parts are inspected for wear and minor trigger and timing adjustments are made if needed. The gun is cleaned and lubed. The barrel is tightened to the actions when possible. Replacement of broken or badly worn parts is available, at additional cost.
See Krieghoff Service for more information.
---
Basic Service Check:
A basic service check is normally done on a gun when it has been in use for less than 2 years, depending on how much it has been shot. The service includes removal of wood, inspection of all working parts for wear and proper timing, complete cleaning and lubrication of receiver, forend iron and barrel.
---
Barrel Work:
Krieghoff Service performs barrel service including replacing sights, removing dents, fitting barrels to your receiver and restamping of numbers. We also can perform point of impact adjustment.
---
Trigger Services:
We can adjust the weight of pull, pre-travel or creep, engagement, safety and selecting on your trigger. Factory specified trigger pull weight on K-80 trap and skeet guns is 3 3/4 lbs. for the bottom barrel and 4 pounds for top barrel. Sporting gun specs are 4 lbs. for both barrels. K-80 RT models are also 4 lbs. for both barrels. We will adjust your triggers as close to your specifications as possible, while maintaining operational safety of the gun.
 
Should you decide that you need a "release" type trigger in your gun, only the Krieghoff service department should install it. Single and double release triggers are available in the K-80 and K-32. We can also restore your gun to a pull-style trigger after a release trigger has been installed. You can watch a Video on the Release Trigger here.
 
The sear springs can be updated in older serial number K-32 and K-80 guns. This is the conversion from wire springs to coil springs for better reliability and trigger pull weight consistency. K-80 guns made since the year 1990 will already have the coil-style sear springs.
---
Metal Refinishing:
Re-blueing is desirable when your receiver or barrel show the signs of wear. Any rust or pitting should be taken care of before it takes its toll on the function or value of your gun. We offer complete restoration of K-80 and K-32 blueing from just the top latch or trigger guard to a complete 4-barrel set. All metal refinishing requires complete disassembly. We inspect, clean and lubricate all parts when the gun is re-assembled. Minor repairs or replacements are included in the base price. If your receiver has a nickel finish, it can also be put back to new condition. This requires sending the action to the Krieghoff factory in Ulm, Germany, and will usually take around eight weeks for the complete job. Barrel chambers on older guns can be chromed. This also requires sending the barrels to the Krieghoff factory in Ulm, Germany, and this will take around 10 weeks.
---
Recoil Pad Fitting:
We can fit new recoil pads to your gun no matter what dimensions your stock is. The option of lengthening or shortening your recoil pad is also available as an option. The lengthening involves fitting a spacer between your stock and the pad in order to gain a few mm in length.
---
Woodwork and Refinishing:
A Krieghoff factory adjustable comb can be installed on your stock. Only Krieghoff hardware is used in this process. In addition, we can install a variety of adjustable butt plate devices, recoil pads or bend your stock to change cast and drop.
 
Re-finishing of the woodwork is also available. Minor dents and scratches can be raised or buffed out. Depending on the type of finish will depend on whether the work is possible, so please contact us with your enquiries.
---
Woodwork Recheckering:
We offer a recheckering service for stocks with worn checkering. This is to give your stock or forearm a better look and grip. We cannot give an exact quote for this service until inspection of the work that needs to be done.
Scope Mounting:
Scope mounts by Recknagel can be fitted to most rifles, with the knowledge of a quality product, expert service and fine finish, will get the perfect fit on to your rifle. We offer a wide range of different types, sizes and arrangements of scope mount, including a pivot mount, rail mount or claw mount. The scope will always achieve repeatable zero, no matter how many times it's removed. Read More...
 
We also offer other Recknagel gun furniture, including sights, express sights and sling swivels.
 
We are available to answer any questions you may have: Tel: 01978 66 00 01 / Fax: 01978 72 99 79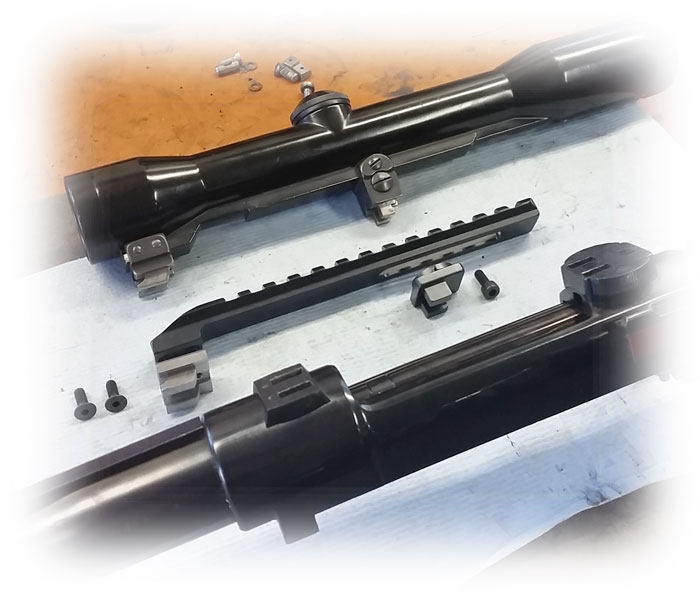 Ed Lyons | Sports Vision Consultant
He has developed an innovative approach to assessing the visual profile of an athlete that has seen his clients win domestic, national, international and world titles, and him win the accolade of SportsVision Practice of The Year. Read More...

Custom Stockz
A custom stock can add to your personality and be painted to make your gun as individual as your self. There are many applications available including Candy, Marble finish, Sparkle FX airbrushing, solid colours, decals, to camouflage gun stocks and more. Read More...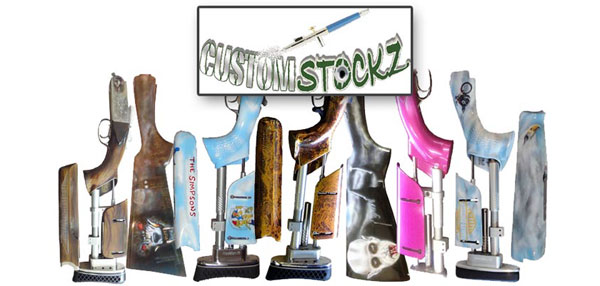 ---
Bring Your Gun to Us:
If you're planning to bring your gun to us, take a look how to find us on our location page. Also, visit our places to stay and things to do pages to find out more about what's around us.
Contact to Find Out What We Can Do
There are some custom jobs and services we can perform. If you would like to contact us with any queries, we'll be happy to help.